Adria Ferries meets Prime Minister Edi Rama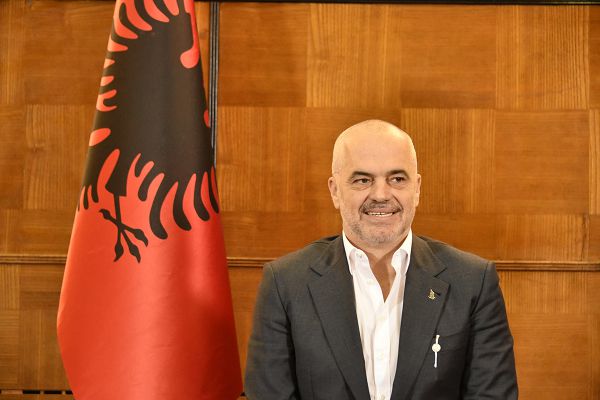 Ten million tourists within five years
An important step on the Press Educational Tour organised by Adria Ferries in Albania was the meeting with Edi Rama, at the Prime Minister's Office in Tirana, where the Prime Minister received a group of journalists behind closed doors and proved to be open to dialogue and to answering the numerous questions of those present. The rooms of the Prime Minister's Office are large and furnished in the classic style of Giò Ponti, the Italian architect who has designed various buildings in Tirana.
The Prime Minister welcomed the group in a sizeable room with two large prints of Italian origin affixed on the walls, depicting the sea and Albania, symbols of the close historical link between Italy and Albania. In a colloquial and at times ironic tone, Edi Rama, also known as the Artist Premier, as he is an established painter, spoke about the issue of the huge influx of tourists to Albania over the last five years, discussing the reasons for this and the close ties between Italy and Albania, including the problems, but more often the benefits, that Albanian tourism presents in the eyes of its Italian neighbours. Albania has, in fact, become an increasingly popular destination for Italians, for their summer holidays and at other times of the year as well.
"We expect to receive up to ten million tourists over the next five years" - he said. "Many come from Central and Northern Europe, from countries such as Poland, the Czech Republic and Switzerland, but there is also an increasing number of Italians, and recently also Israelis. We have everything a tourist needs, starting with our cultural heritage, even though a great deal of it was lost in the 1960s, including the 2,500 churches that were destroyed".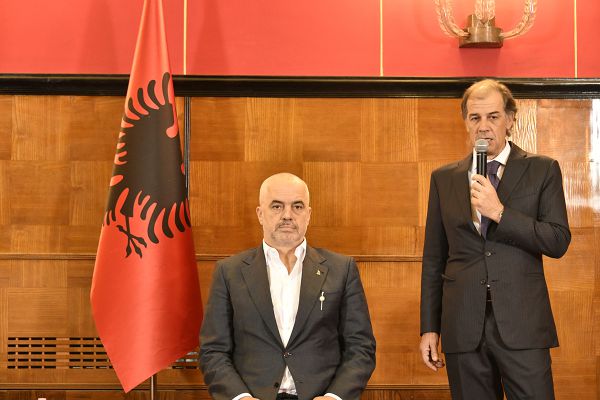 Albania is a little Italy: that is why it is popular
On being asked why Italians choose Albania for their holidays and why he would recommend coming here for anyone who has not already done so, the Prime Minister replied that many Italians view Albania as a little Italy, similar to the country of their grandparents, with all its strengths and weaknesses. Many Albanians speak Italian and there are also shipping routes from Italy to Albania, the busiest of which are the routes travelled by Adria Ferries, which operates multi-week outward and return services between Ancona and Durrës and Bari and Durrës with its ferries, AF Michela, AF Francesca and AF Marina.
Interest in the Land of the Eagle has increased and it received six million visitors last year. Tourists choose Albania as a holiday destination for a variety of reasons, starting with the cultural heritage, but also more recent attractions, such as development of wine tourism, the planned new tourist port of Durrës, the new face of Tirana, the construction of new, five-star hotels by international hotel chains and the creation of resorts, including in the mountains, as part of a broader program of global transformation called Urban Renaissance.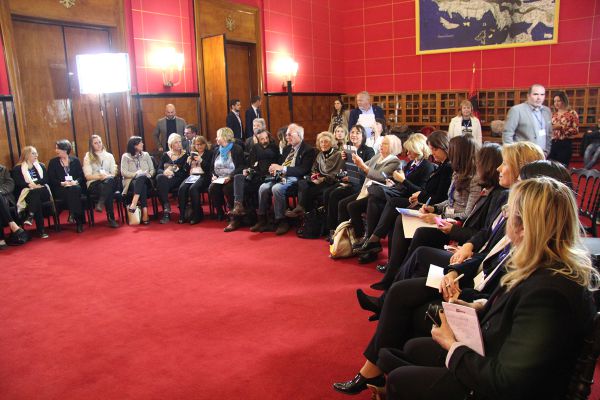 An important aspect that emerged from the meeting was the great responsibility that Italy has for Albania. It is a cultural and economic reference point for Albanians, a method of spreading our language, spoken by everyone in Albania, and an opportunity for Italian enterprise, as there are excellent opportunities for investment in both tourism and infrastructures.
Tourism in Albania is undergoing major development, as the country is confirmed as a popular destination for summer holidays, with all its resources and potential.
What are the things to see in Albania? There are numerous reasons for visiting the Land of the Eagle. This includes archaeological sites such as Apollonia, nominated as a Unesco World Heritage Site, and places of ancient history, such as Berat, an Ottoman city that is already a Unesco site. For those choosing seaside holidays, there are the resorts of Sarandë and Vlorë, and also mountain destinations in the north of the country.
Albania is therefore an "El Dorado" for potential investors or anyone who simply wishes to take a ferry from Italy to Durrës and enjoy the beauty of an unexplored land.
Check out our articles 

in albanian

 here: